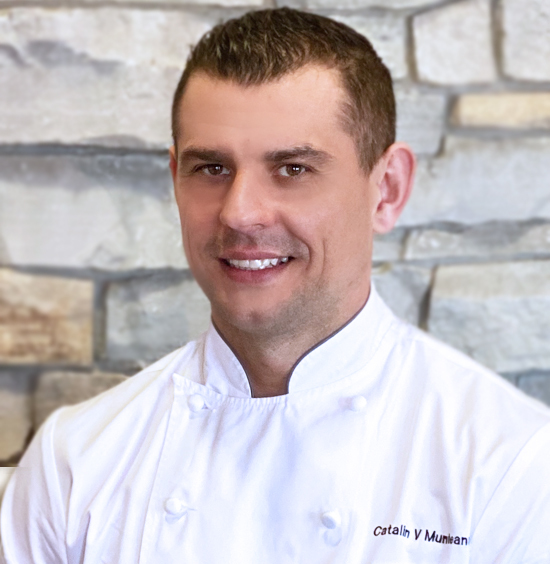 We are delighted to announce the appointment of Catalin Munteanu as the new Executive Chef of Arcadia Bluffs. Catalin Munteanu brings over 18 years of fine dining, luxury hotel, and upscale banquet experience to Arcadia Bluffs.
Born in Brasov City, Transylvania, Catalin Munteanu was inspired to follow the culinary arts after spending time as a child pickling, jarring, making jams and jellies, and curing and smoking meats with his mother. Today, Chef Catalin lives with his wife and two young children in Traverse City.
Before his arrival in Michigan, Chef Catalin Munteanu traveled throughout the country working alongside mentors in fine dining establishments where he developed his passion and the inspiration to take his culinary skills to the next level. Chef Catalin's deep knowledge and appreciation for the culinary arts were helped shaped by two renowned chef's, Hans Dietrich of Boca West Country Club and Yves Samake of The Ritz-Carlton.
Arcadia Bluffs strives for continued and consistent growth and development to provide our guests with the best service and experiences possible. We enthusiastically look forward to the 2020 golf season and the opportunity to provide guests with the same white glove service they have always received but with new and improved dining experiences from a well-seasoned and passionate culinarian.
For reservations and dining information please click here.