Greetings to all of our friends and Arcadia Bluffs family.
We are pleased to share with you our excitement for the opening of the restaurant at The South Course on February 2, 2021.
Much has happened to all of us since the "pause" of November 18, 2020 as ordered by the Governor of the State of Michigan. For some of us, we have suffered illness or the loss of a friend or loved one. For others, we have remained healthy and relatively unscathed by the Pandemic and its hardships. Most of us now have a sense that the dawn that comes in the morning after a very dark night may soon allow some sense of normalcy to return with the roll out of effective vaccines.
After such a long layoff, we may have a bit of rust that we have to shake off as we ramp back up to serve you with our high standards. We do not expect any issues but forgive us in advance if we slip on a few minor things as we get back into the rhythm of the Arcadia experience. We have trained for this day and are excited to set our standards high and hit the mark consistently. We are pleased that our staff is intact. We are pleased that we are laser-focused on your dining satisfaction.
Let us tell you about what you should expect with the new 25% guest limitation. Given our size, we will have a limited number of guests in the building at any one time. We do not see this as an issue. Unfortunately, however, this will mean that you may not be able to simply walk into The South Course and expect to be seated. Most of our guests either call ahead or make a reservation on OpenTable. We will use the same spacing and attention to a clean and safe environment that we utilized prior to the latest shutdown. We will do contact tracing at the host stand and take your temperature. We will provide you with Arcadia hand sanitizer at every table. We will only use tablecloths and cloth napkins on all of our eating surfaces. Our facility is deep cleaned every evening after our guests depart. We will ask you to wear masks whenever you are not seated at your table. We will enforce any additional governmental requirements from time to time to ensure that we are in compliance with all State and CDC guidelines.
Until we see you, please continue to care for each other and for yourselves. Spread the message of hope for a better future. Love your family and friends. Treasure each day as a gift from God.
Best wishes,
The Ladies and Gentlemen of Arcadia Bluffs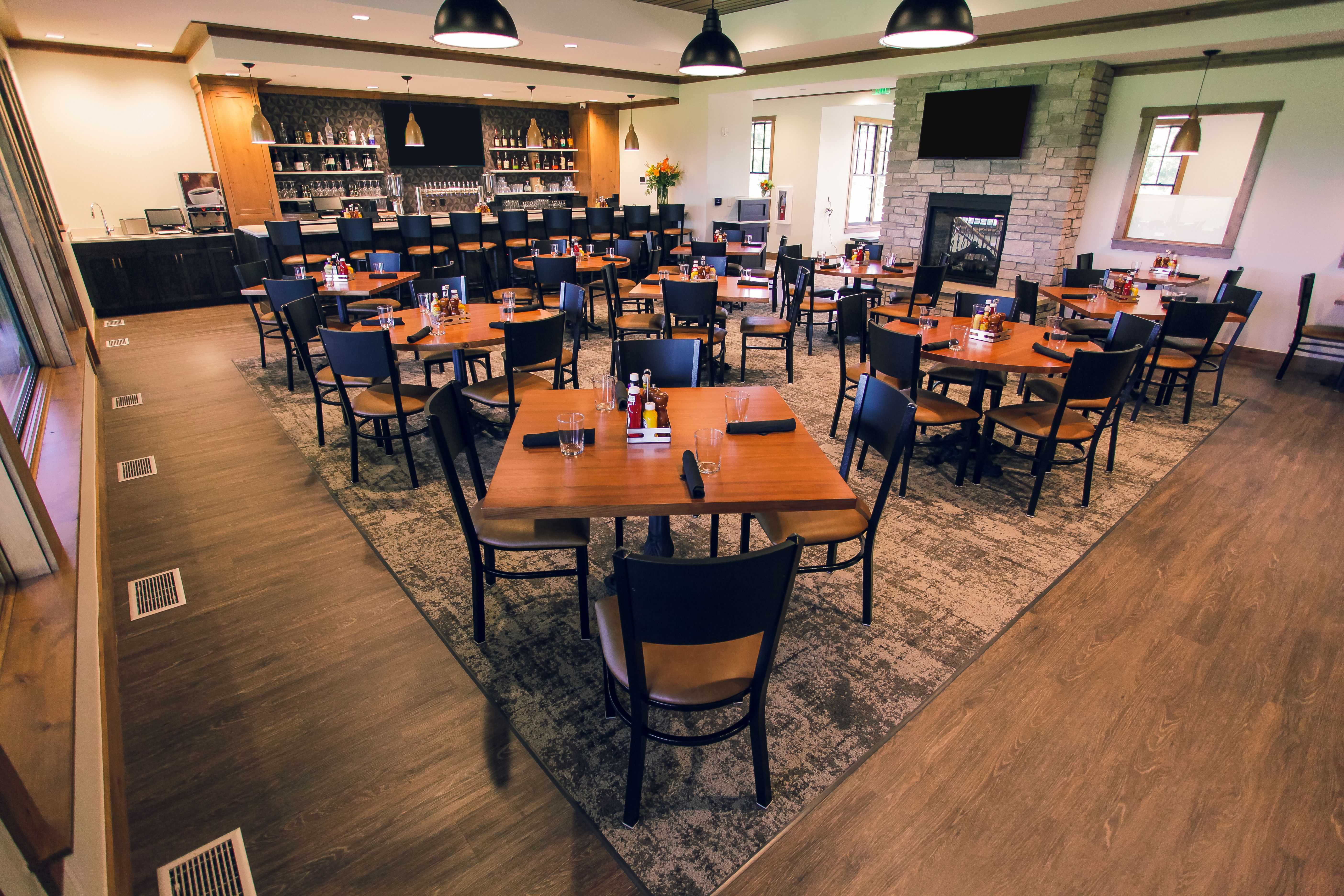 Open Year-Round, The Restaurant at The South Course is a casual full-service concept that features carefully crafted comfort cuisine perfect for any occasion. The restaurant is located on the second floor of our stunning new South Course clubhouse, one mile south of our main location, right off M-22 with plenty of public parking available. The restaurant offers modern amenities including three distinct and comfortable seating areas. The main bar offers seating for 10 and boasts 12 local draft beer selections centered beneath a 70" Ultra HD TV, perfect for catching up on your favorite sporting event with friends. Off the main bar our dining room has seating for 50 with a VIP table seating 10 topped off with multiple large flat screen TV's, a cozy fireplace and cherrywood butcher block tables. The bent grass room is nestled privately off our main dining area with seating for 40 with flat screen tv's overlooking the 18th green. This space is perfect for hosting a private event or just relaxing with friends enjoying the breeze and sunshine.